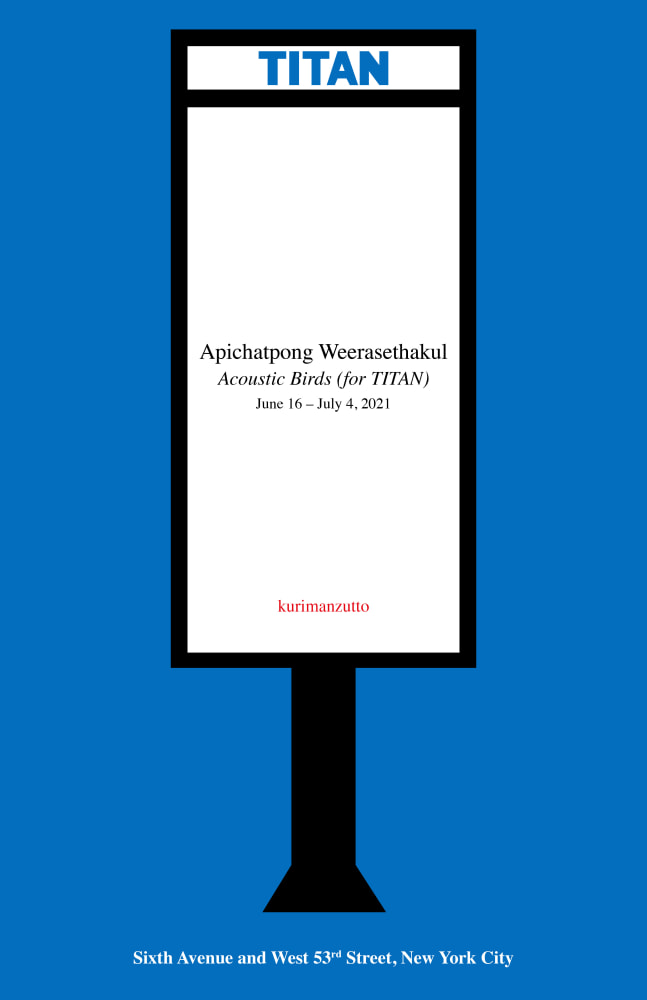 kurimanzutto is pleased to introduce the second phase of TITAN, an ongoing project series in a solitary phone booth, conceived by the artist Damián Ortega and Bree Zucker. Initially launched as a group exhibition, the TITAN project now begins a new stage, focused on a single kiosk, like a pin on a map, at the corner of Sixth Avenue and West 53rd Street in New York City. During the course of the year, four individual voices will each present a solo project, using the phone booth kiosk as they see fit.
For the fourth and last project in TITAN's solo project series, Apichatpong Weerasethakul presents Acoustic Birds (for TITAN), a work that) poses a poetic commentary on the phone booth, a decayed communication automaton from a previous world, transformed into a resting perch for inquisitive birds. Creating a contrast between the industrial, man-made booth and the natural world, the story within the triptych suggests an unexplained, mysterious energy. For TITAN, Weerasethakul intervenes with the original function of the pay phone, transforming it into an oddity that discreetly stands in the middle of everyday life in the city. Acoustic Birds (for TITAN) marks the closing project in the series, as New York City has announced the imminent removal of its phone booths.
The TITAN project takes as its premise that a gallery may exist as an open space, free for all viewers, at any hour, even in the middle of the night. It aims to open a space for experience, imagination, and dialogue during a decisive time of great potential change. Like a newspaper, or public bulletin board, the solo series of the TITAN project continues kurimanzutto's ongoing dialogue with a broad audience in the public sphere. Since its inception in 1999, kurimanzutto has consistently promoted projects and exhibitions outside of a traditional white cube to stimulate cultural dialogue. Previous projects have included exhibitions and performances in local markets, floating gardens, parking lots and airports, alongside the recent billboard project Sonora 128, in Mexico City. TITAN marks the first citywide project by kurimanzutto in New York.